The Best Professional Trumpets-What makes them so great?

The best professional trumpets are just what the name implies. The best professional trumpets can take a player all the way to the top of the profession. A professional trumpet is a lifetime purchase for most players. The trumpet I play now is almost 40 years old, and I play a lot. They last a long time if taken care of.
The best professional trumpets are made of different alloys than beginner trumpets, and much more hand fitting is done in their construction. Yamaha says that it takes around 40 hours of working by hand to produce one professional trumpet. This is what justifies the price. Most professional trumpet players play the same instruments you can buy through this website.
When should I buy one?
I got my first professional instrument in 10th grade, and that is usually what I tell parents to do too. Anywhere between 9th and 10th grade is a good time to get one. By this time, students have learned how to take care of a professional trumpet.
Prices for professional trumpets rise between $50 and $100 every year, so waiting to purchase one doesn't do anything but let the price get higher. In other words, there's no better time than now to get one.
Also, these instruments retain their value if taken care of. I highly recommend purchasing a professional trumpet as soon as you can tell your child has learned to take care of their instrument.
They retain their value.
My parents purchased my first professional instrument for around $600 40 years ago, and it would sell today for $1200 easily in the rough shape it's in. Today, the retail price of a professional trumpet is over $4000, but through the links here, you can purchase one much cheaper.
In the classical professional world, it's largely a Bach or Yamaha world, but there are some other good choices.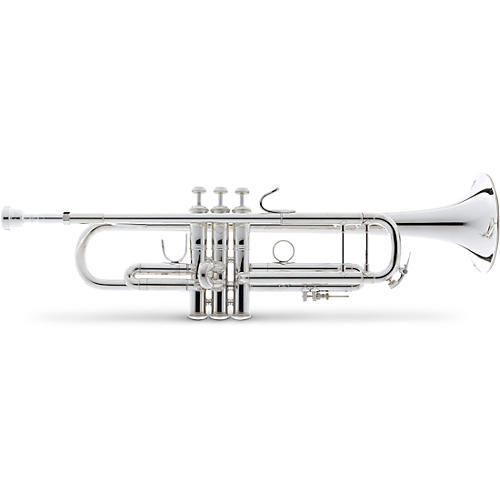 Bach 180s37 Stradivarius Trumpet
The Bach Stradivarius 180s37 trumpet has been the standard professional trumpet for many years.  There was a time period where the consistency of Bach trumpets wasn't very good.  They still made great horns, but every one of them played differently.  Today, they've gotten much better at making consistent trumpets.
The Bach 180s37 Trumpet is my instrument of choice for a professional Bb trumpet.  More professional players use this horn than any other Bb trumpet.  "180" is the model number, "37" is the bell number, and "s" stands for silver plating.  It also comes with the standard 25 leadpipe, which is not marked on the instrument. If it had a different leadpipe, it would be stamped at the mouthpiece end of the leadpipe, or receiver.
I would choose the yellow brass bell option.  The gold brass version is darker and a little edgier in my opinion.  This combination has served professional trumpet players for many years, and it will serve you well too.
Yamaha YTR-8335 Xeno Trumpet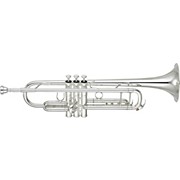 The Yamaha YTR-8335 Xeno Trumpet is Yamaha's answer to the Bach Stradivarius trumpets.  For years, Yamaha worked to copy the Bach Strad Trumpets, and this was their answer.  The Yamaha Xeno is very much like a Bach Strad, but they are more consistent.  In my opinion, the sound doesn't have quite as much "color" compared to the Bach, but it's very close, and it's usually a little cheaper.  If you want a Yamaha trumpet with as much color as a Bach, check out the next trumpet.
Yamaha YTR-9335NYS Custom Artist Model Series Bb Trumpet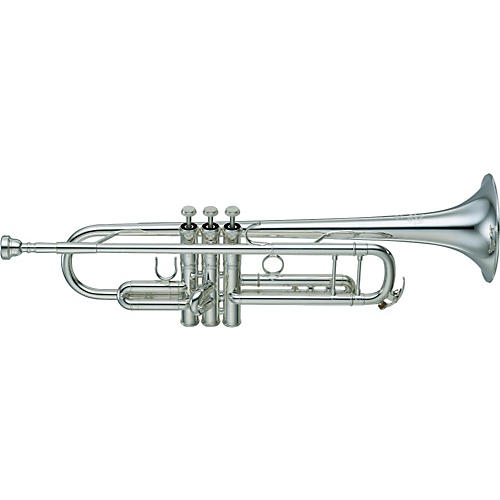 The Yamahs YTR-9335NYS Custom Artist Model Series Bb Trumpet is their top of the line version of a Bach Strad.  I've heard it described as the best Bach 37 you've ever played, but it's made by Yamaha.  This is a truly great horn, and in my opinion, it's every bit as good as a Bach.  If I were buying a new horn today, it would be a hard choice for me between the Bach Strad and the Yamaha 9335NYS.  Either would take you as far as your could go in the trumpet world.